Meet the Team
---
At Memphis Reprographics we are proud to employ some of the industry's most enthusiastic and dedicated individuals. Our entire staff is cross-trained, which reduces our turnaround time, and allows for a scalable and adaptive model. With Memphis Reprographics, it's not just one person working on your account, it's the entire team.
Chris McNally
Is the steam engine leading Memphis Reprographics. As owner and CEO, Chris leads by example and works alongside his team on the production floor daily. An Alabama native with humble beginnings, Chris moved to Memphis to attend Rhodes College. When he's not living and breathing Memphis Reprographics, Chris can be found spending time with his wife and son or preparing a delicious home-cooked meal.
---
Greg McNally
The bona fide jack-of-all-trades. Not only is he dad to Chris and co-owner of Memphis Reprographics, he spends his free time building wooden furniture – a skill he's honed over several years. In fact, Greg built many of the furniture pieces in the Memphis Reprographics office. He boasts about the Memphis Reprographics team's commitment to customer service and efficient operations.
---
Melissa Pope
A native of Union City, Tennessee, who refers to herself as the "keeper of the awesome." With a personality described as a cheerleader, Melissa believes in always finding a way to get the job done for a client. Melissa is involved in the Memphis community, and when she's not working hard to serve clients or the community, she enjoys spending time with her 8-year-old son and her husband. She is also a huge fan of the Memphis Grizzlies!
---
Jeff Barron
Manages Memphis Reprographics' operations, which means he is always ready to switch gears and help a co-worker serve a client. Jeff is also known for his calmness. This trait, among others, is one of the things that makes Jeff such a unique member of the team. After being displaced by Hurricane Katrina, Jeff made Memphis his home, and he has been enjoying the barbecue ever since. In his free time, he can be found at the dog park with his wife and two boxers; playing a round at the golf course; or even curling at the ice rink.
---
Lisa Alfrey
A native of Forrest City, Arkansas, and a self-proclaimed Mexican food lover. She is one of the first faces you will likely see when you walk through the doors of Memphis Reprographics. She enjoys her current role not only because of the great clients but also because of her co-workers, whom she refers to as family. One of her greatest pleasures of working at Memphis Reprographics is seeing how the company's work makes a difference for clients. She loves to see clients smile. In her free time, this mom of three enjoys relaxing with her family, cooking, shopping and watching movies.
---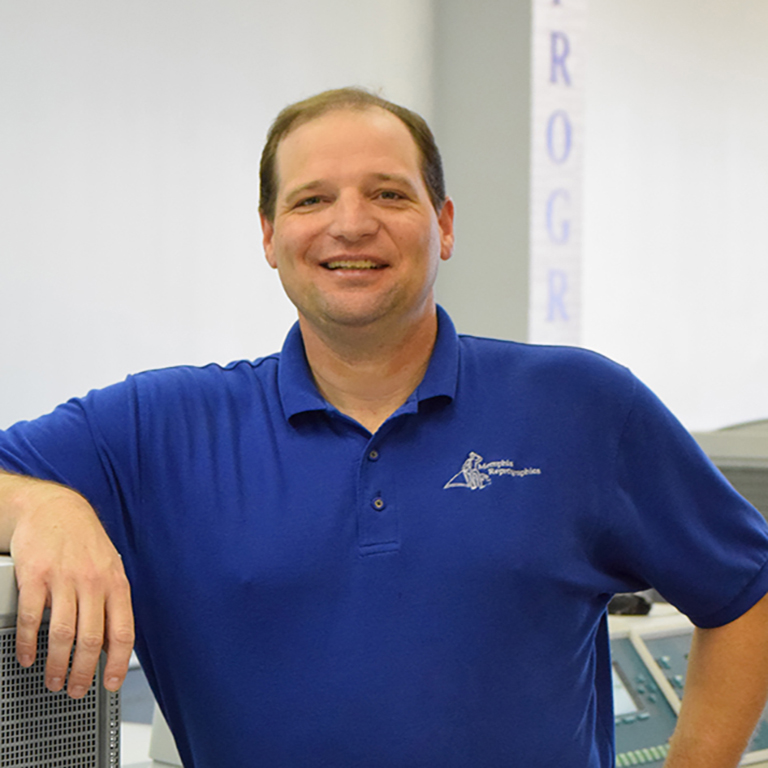 Adam Oelschlager
Originally from DeWitt, Illinois, and has a diverse range of experience. From studying golf course management to landscaping by the pool at The Mirage in Las Vegas, Adam can pretty much do it all. At Memphis Reprographics, he is production manager, but he really just steps in to do whatever is needed. Some consider Adam as a jokester, but when it comes to quality, he's all serious, all the time. When he's not at work, Adam enjoys spending time with his wife, vacationing and volunteering at DeSoto Animal Rescue Society.
---
Brad Camp
Hails from Haleyville, Alabama, but now proudly calls Memphis his home. Brad is known for his willingness to go above and beyond what is needed to make sure that Memphis Reprographics' clients are properly serviced in the most urgent manner (which is usually faster than expected). Brad may have been a rock star in a former life, but he is now a self-proclaimed computer-game nerd. In his free time, he still loves to kick beats on the drums or watch a football game, especially when the Alabama Crimson Tide or Tennessee Titans are playing.